TONY B CONSCIOUS Art Collections
Shop for artwork from TONY B CONSCIOUS based on themed collections. Each image may be purchased as a canvas print, framed print, metal print, and more! Every purchase comes with a 30-day money-back guarantee.
About TONY B CONSCIOUS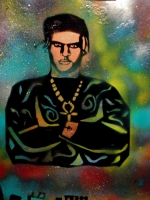 Tony B. Conscious, known to many around the world simply as "THE GHETTO VAN-GO" is one of the Hottest political, HIP HOP, HISTORICAL and spiritual pop artist on the west coast , and probably in the world.

Crowned in the nineties on Venice Beach in California, THE NUMBER ONE AND HARDEST WORKING ARTIST ON THE BOARDWALK, he has been doing this style (which he has named and patented "FLY DYE ART") for a long time.

Inspired by JEAN MICHAEL BASQUAIT, this "Aerosol Avatar" uses spray paint, handmade self created stencils, acrylic, lacquer, wood and ??? to create some of the most memorable one of a kind masterpieces one would and could ever find anywhere on the planet...

www.flydyeart.com www.tonybconscious.com

TONY B. CONSCIOUS(aka ANTHONY BROWN) was born in Seattle, Washington as the first of three children. He has been an exceptional communicator every since he became able to speak and write. As a youth, he was noted as an extremely prolific student whose favorite subjects were History and Creative Writing. He was presented with several achievement awards and certificates as well as numerous trophies and plaques based upon his ability to convey his thoughts, ideas and dreams through the use of words.
As a teen, he was completely turned off by the school system and their blatantly one-sided cirriculum that glorified EUROPEAN conquest and taught nothing about the prestige, achievements, civilizations, talents and or culture of AFRICA, AFRICAN PEOPLE nor their descendants. So subsequently, he started skipping school and hanging with the brothas and sistahs from the street.
Trouble soon followed and he found himself in Juvenile Detention Centers from any where between 30 days to 6 months at a time. It was here that he was able to truly perfect his writing skills, while reading and studying the subjects that most interested him (AFRICAN & AFRICAN AMERICAN HISTORY). This is also where he was first introduced to hip-hop and rap. He would listen to the other brothas' writings and formulate his own knowledge, opinions and observations into rap lyrics, poems and songs that he could easily remember and recite at a moment's notice. This made him very popular amongst his peers and the counselors. His words oftentimes would rehabilitate, educate and motivate others to take action in their lives.
Soon after he was released and relinquished from probation, he started writing raps' with and for the local hip-hop groups in Seattle. This is where and when he received the name "R-O-M-E-O": (Rappin' On the Mic Every Opportunity). He was known for always having an innovative rap to say about being BLAK in America, Lovin' the women or battlin' other m.c's.






In the early nineties, he was led by spirit from Seattle to Los Angeles, California. It was here that he was first introduced to "SPOKEN-WORD POETRY", "HOLLYWOOD" and was very successful in networking his way into several movies such as "HIGHER LEARNING", "NAKED GUN 33 1/3", "SOUL OF THE GAME" and "LOW DOWN DIRTY SHAME". He has also been featured on several television shows, such as: "TOWNSEND TELEVISION", "IN THE HOUSE", "MARTIN" and "SLIDERS".
Despite his incredible acting abilities', he made a vow to always remain true to his ancestors' spirits and his people. He became an instant legend in LOS ANGELES' "spoken-word poetry" scene for always speaking on issues and truths that other brothas and sistahs were afraid to touch. It was here that he recieved the title "TONY B. CONSCIOUS". However, this didn't go over to well in HOLLYWOOD. As a consequence, he was forced to look for other work, while trying to raise the capital to self-publish his books and produce his spoken word tape.
Because of his ability to empower others, TONY B. met up with QUEEN SISTAH CHARMAIN, and formed the group "N2WISHN", a multi-talented, musical entity that not only fused JAZZ, R&B and HIP-HOP in perfect harmonious melodies, they also brought "SPOKEN-WORD POETRY" plus African drumming and dance to the masses in an astonishing way never, ever heard before. N2WISHN not only entertained, they also informed by stressing the importance of Cultural Awareness, UNITY, and connecting with Mother Earth, Nature, the Elements, the Animals, the Ancestors and above all... THE CREATOR !!!

Soon After all of this,  he once again decided to go back to his roots and foundation, Hip Hop and Soul. He has been on stage and on tour with KRS-ONE, GRANDMASTER FLASH, KOOL HERC, BUSY BEE, PUBLIC ENEMY, KOOL MO DEE, GRANDMASTER CAZ, PARIS, TUPAC and ERYKAH BADU just to name a few.

HE is and will be, until he passes on to the next dimension, truly the personification of...
HIP HOP.